DSOTA
Like us on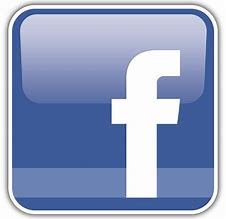 Destin School of the Arts is excited to start a NEW Semester!
*See class schedule below for a list of available classes, student criteria, and weekly schedule. Please contact our office for more information!
Come play at DSOTA! Starts January 17th
Step 1: All Students Must Enroll Here. (New or Returning Students)
A confirmation will follow with further instructions.
$285 Per class, Per semester (January through May)
Payment arrangements and full/partial tuition sponsorships are available, as well as sibling discounts.
Please call the DSOTA office (850-837-2021 ext. 236) for details or email Alice Temple at
Weekly Classes
Weekly Friday Class - 6pm - 7pm (Instructor: Rachel Richey)
1st TIME Students CLICK HERE
Returning Students CLICK HERE
Calling all singers from K-5th grades!
All Students must be enrolled at DSOTA to participate in the FREE children's choir. If you have not enrolled, please CLICK HERE. Once you are enrolled you will receive a confirmation with the link for Children's choir. Already enrolled? CLICK HERE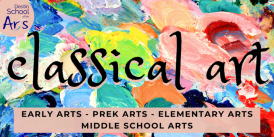 Weekly TUESDAY Classes (Instructor: Erika Scannell)
Early Arts 3-4 years (2:00pm-2:30pm)
VPK 4-5 years (2:45pm-3:15pm)
Elementary K-4th grades (3:30pm-4:15pm)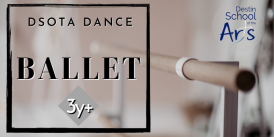 Weekly WEDNESDAY Classes (Instructor: Myriam Griffith)
Tutu Cute Ballet 3-4 years (2:15pm-2:45pm)
VPK Ballet 4-5 years (3:00pm-3:30pm)
Elementary Ballet K-4th grades (3:45pm-4:30pm)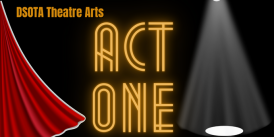 Weekly THURSDAY Classes (Instructor: Deven Welborn)
Creative Play 3-4 years (2:00pm-2:30pm)
Creative Spark 4-5 years (2:45pm-3:15pm)
Theatre I K-4th grades (3:45pm-4:15pm)
Junior Thespians 5th-8th grades (4:30pm-5:30pm)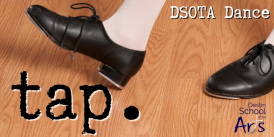 Weekly THURSDAY Classes (Instructor: Rachel Richey)
Jazzy Tap 3-4 years (2:45pm-3:15pm)
VPK Tap 4-5 years (3:30pm-4:00pm)
Elementary Tap K-4th grades (4:15pm-5:00pm)


Private Instruction Registration
For more information about enrolling in private instruction or arts classes, please contact DSOTA at 850-837-2021 at ext. 236 or email our Director, Alice Temple at