DSOTA
Like us on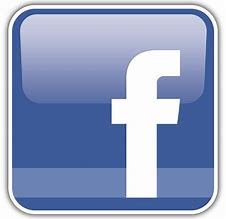 For more information about enrolling in private instruction, please contact DSOTA at 850-837-2021 at ext. 236 or email our Administrator, Alice Temple ( ) or DSOTA Director, Keri Klaus ( ). For more information on any of our current classes, or to sign up for our newsletter that will update you on upcoming classes and events, please email our Administrator, Alice Temple.
DSOTA Fall Tuition
$25 Supply fee (snacks, waters, supplies, etc)
All courses $260 for the fall semester (September through December).
Split payments are available, $155 down payment, with a balance of $130 due November 1, 2022. Balance CANNOT BE PAID ONLINE, please make arrangements in office.
New this fall, Act Up Theatre courses! Enroll in three courses get 4th free!
25% sibling discount available. Please email for promo code.
This August, Destin School of the Arts is excited to offer two FREE opportunities to EXPERIENCE THE ARTS at DSOTA!
First, on Wednesday, August 24th from 5:30pm until 6:30pm, we invite you to visit the arts school for OPEN HOUSE! Throughout this come-and-go event, our arts instructors will be opening their studios and classroom doors for students and parents to tour our school, meet our arts teachers, try out some musical instruments, take center stage, create a piece of art, and experience the joy that comes with the arts enrichment programs at DSOTA!
THEN, we are excited to share that we are opening our first week of art, theatre, and dance group classes to students at NO COST! Beginning Tuesday, September 6th, students are welcome to attend as many of our program group classes as they would like to try before making the decision to sign up for the semester!
*See class schedule for a list of available classes, student criteria, and weekly schedule. Please contact our office for more information!
Come play at DSOTA THIS FALL!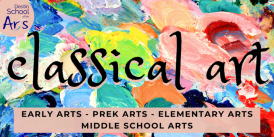 Weekly TUESDAY Classes (Instructor: Kasey Brady)
Early Arts 3-4 (2:15pm-2:45pm)
PreK 4-5 (3:00pm-3:30pm)
Elementary K-4th (3:45pm-4:30pm)
Weekly WEDNESDAY Classes (Instructor: Alexandra Sharp)
Middle School 5th-8th (4:30pm-5:15pm)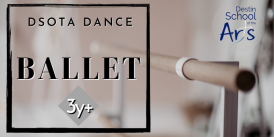 Weekly WEDNESDAY Classes (Instructor: Myriam Griffith)
Tutu Cute Ballet 3-4 (2:15pm-2:45pm)
PreK Ballet 4-5 (3:00pm-3:30pm)
Elementary Ballet K-4th. (3:45pm-4:30pm)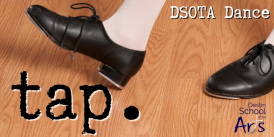 Weekly THURSDAY Classes (Instructor: Kasey Brady)
Jazzy Tap 3-4 years (2:30pm-3:00pm)
PreK Tap 4-5 years (3:15pm-3:45pm)
Elementary Tap K-4th (4:15pm-4:45pm)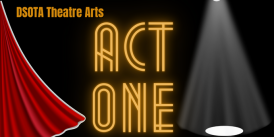 Weekly THURSDAY Classes (Instructor: Deven Welborn)
Creative Play 3-4 (2:00pm-2:30pm)
Creative Spark 4-5 (2:30pm-3:00pm)
Theatre I K-4th (3:30pm-4:15pm)
SATURDAY Classes
Junior Thespians 5th-8th (10:00am-11:30am)